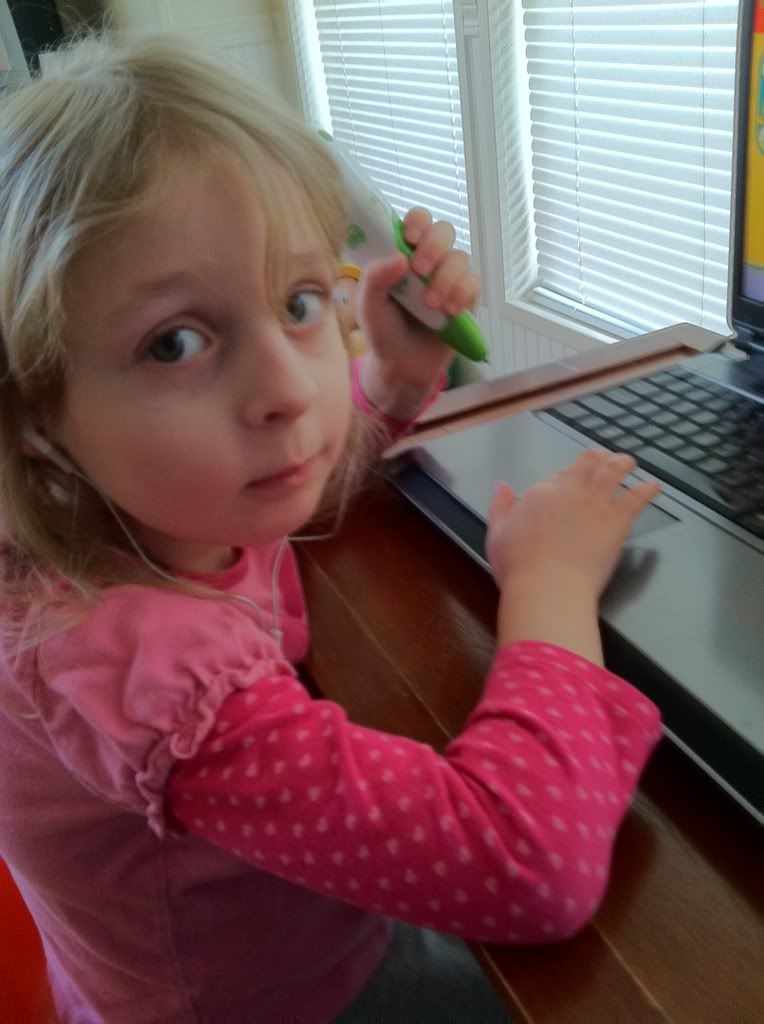 Listening to her TAG reader while playing
laptop games. She multitasks better than
her mama!
The journey started with a three-year-old who was fascinated with letters. She wanted to learn to write, so she sat down and started trying to draw letters. She asked how to spell her name and she would sit and practice writing those seven letters for
hours
. She was so proud when she got them right and so very frustrated when she did not. By the time she was 3 1/2 she could write most of the letters and knew their sounds. She signed her name for a library card and astonished the librarians (proud mama moment).
For Christmas that year we got her a TAG reader from Leap Frog along with two sets of phonics books. I think it honestly made all the difference in the world. She would sit for hours and just listen to letter sounds and how they interacted with the other letters. I read to her, but she likes to do things on her own terms. She is a very sweet, strong-willed child. She is also a perfectionist and does not like to get things wrong. If she messes up, she often get's discouraged and stops trying. It drives me crazy, but I am learning to accept that is just her personality.
For the past year, she has been claiming that she cannot read because she messes up a word, or she doesn't recognize a sound, but she corrects you when you read to her. If I skip a word or say the wrong one she stops me and says, "That doesn't say that, Mommy!"
On Monday, we sat down to read and she decided she would do it.
She
would read 'Hop on Pop' to
me
. So she started and with only a mild falter toward the middle of the story, she read the
entire
book to me. I am so proud of her! Tuesday I decided that it was time to pick up a few easy readers from the library. I was in a hurry and there were a couple that looked silly enough for Pixie on the display shelf, so I grabbed them (
Pigs Make Me Sneeze
and
Elephants Cannot Dance
)-- If there is one thing that little girl likes, it is SILLY stories.
When we sent her to her room for quiet time, she took the two books along with her in hopes that I would read them to her before lights out. By the time that I Puca down for bed and made it to her bedroom for story time, she had already read BOTH of them. Since then I have caught her reading them aloud to her bunny and her little brother. "See the pictures? He was sneezing, isn't
so
that funny? Achooo!"
I think we will be making another trip to the library soon!